We offer you a wide range of surgical coverage, capable of covering all surgical specialties.
| | | |
| --- | --- | --- |
| Orthopedics | Hip | Hand |
| Urogine | Delivery | Cystoscopy |
| RTU | ENT | Heart surgery |
| Knee arthroscopy | Neurosurgery | Thoracic surgery |
| Foot and Hand | Femoral angiography | Radiofemoral angiography |
| Ophthalmology | Minor surgery | Laparoscopy |
| Curettage | Loco-regional anesthesia | Plexus anesthesia |
| Abdominoperineal Laparoscopy | Vertebral surgery | Shoulder arthroscopy |
| Perineal arthroscopy | | |
Sterile Coverage
Surgical solutions designed to work with total confidence and security.
Our line of surgical coverage, form our own brand Cobex, exceeds all the European Committee for Standardization requirements (EN 13795) and it is homologated by DIGIMED in:
Resistance to blood penetration.

Resistance to lint contamination.
Resistance to flame propagation.
Resistance to combustion.
Low emission of particles.
Resistance to dry breakage.
Resistance to wet breakage.
We have nationalized in Peru more than 100 references, ready to serve.
All the equipment is manufactured with last technology materials. Our products are made with 3 layers of SMS in order to provide a solid and durable protection against bacteria and particles.
The 3 layers of polypropylene minimize the risk of contamination. They are no-flammable and their exceptional design allows flexibility of movement.
ICES Medical not only offers an exceptional quality in its products but also in its service and logistical support. We provide a variety of solutions to suit your needs and help you in making decisions.
Analysis of the volume of procedures.
Selection of the best type of coverage.
Customized budget.
Supervision of project development.
Efficient and efficient after-sales service.
Sterile gowns, equipment and accessories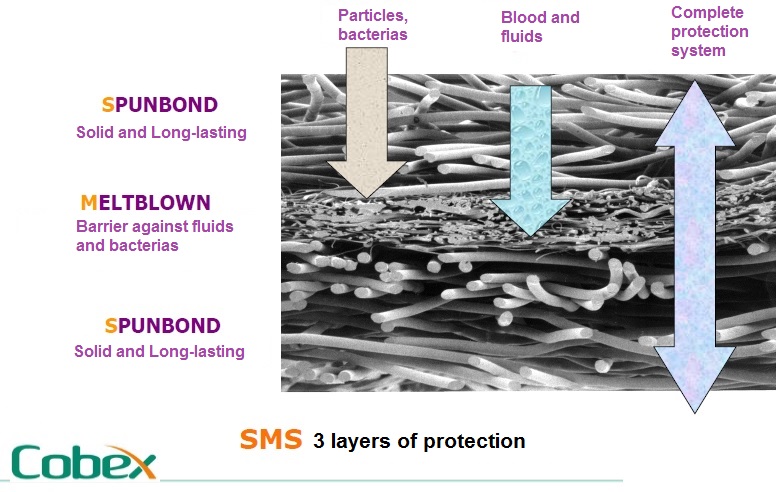 Overalls, equipment and accessories of sterile single use material.
Our breathable and waterproof surgical gowns are lightweight and high performance.
They are available with different levels of protection and variety of sizes:
Standard overalls
Provide protection without compromising comfort.
Reinforced Overalls
Brings protection without compromising comfort.
Urological gowns
Insulation Bathrobes
Taking care of the needs of the medical team we have a complete line of coverage sets. All our equipment has absorbent reinforcements and hypoallergenic adhesive in addition to fluid collection bags for fluid loss procedures.
We offer you a wide range of surgical coverage, capable of covering all surgical specialties.